Dear velomobile - those interested in
We are pleased to present to you the new
Milan SL MK 1: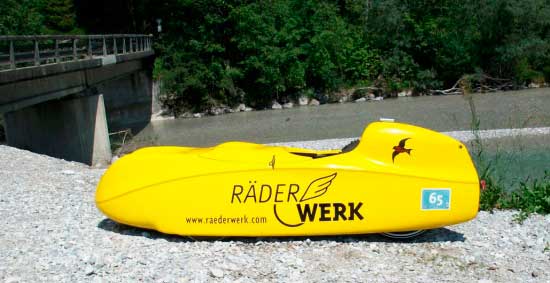 What place will the main Milan SL?

Following the successful launch in a sporting and economic point of Milan MK 2 we have moved some insights to the creation of a smaller twin of Milan MK 2, which allows for the driver with a lower height and narrower build an even better fit. Goal in the design of the Milan MK 2 was then to develop an extremely efficient driving machine that exploits the limitations of currently available technical means, without limitation, full usable in daily traffic. We achieved excellent sporting success and many 100,000 miles in everyday practice in all weather conditions are proof of this. Since the human nature requires very little pedaling power is available and depend on his performance in the velomobile is always the system weight and the ratio of driver size to car size, it was natural to create a second vehicle size.

With the new Milan SL get smaller to medium-sized driver a better power to weight her body adjusted.

This applies both in relation to the enclosed space, the end face and the weight of the vehicle. The Milan SL incorporates all the successful features of the Milan MK 2 and converts it accordingly. Carefully conducted scientific experiments and flow measurements under the direction of our irreplaceable expert on aerodynamics, Eggert Bülk have also enabled the Milan SL unmatched driving efficiency.
Even before its official unveiling at the Milan market, the SL has its quasi diabolical skills to the test MK1 asked: The long range of specialist Christian Ascheberg presented at 01August 2010 on the Milan SL in a long-distance running three new world records:

The price list can be found at the Milan SL reference.