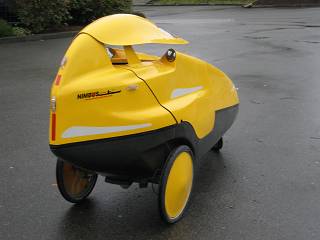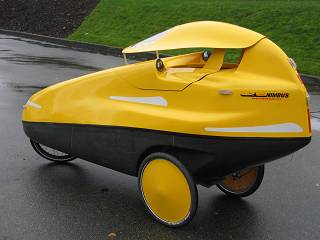 Aurora Velomobile Specification

Length
280cm (9' 2.25")
Width of body
76cm (30")
Height
no roof 121cm 47.5"
with roof...127cm(50")
Wheel base
160cm(63")
Track Width
75 cm(29.5") (no load)
Seat Height
33cm(13")
Bottom Bracket Height
49cm(19.5")
Weight
36 kg (79 pounds)
Cost
$CAD 6900
Roof
$CAD 300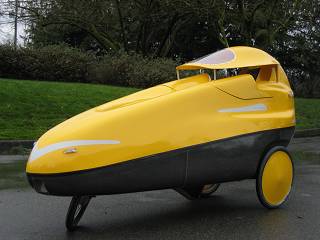 Wheels: Delta style with three 20", 406 wheels. Underseat steering with a completely enclosed drivetrain.
Construction: Vacuum bagged or infused shell using Graphite, Graphite/Vectran, Kevlar, Glass/polyester and Glass laminates. Monocoque construction with graphite central beam to which all the bike parts attach.
Drivetrain:SRAM Dual Drive as a middrive with triple chainring at the bottom bracket. Cog on middrive is 24 tooth while cog on driven right axle is 18 tooth.
Brakes: Mechanical disk brakes on the rear wheels, V-brake on the front wheel which can also be used as a braking brake.
Lights: LED turn/running lights front and back, LED rear light, flashing light, second rear light which is also a brake light, horn, provision for headlights.
Rider size: The Aurora will accommodate riders from 160 cm to 190 cm and maybe a bit more.
Luggage capacity: 120 litres (plus 40 litres under and beside the seat).
Suspension:The two rear wheels have a composite spring providing over 5 cm of travel. Spring stiffness can be modified to suit the rider. Front wheel has no suspension but is fairly lightly loaded.
Power assist option available.