Specs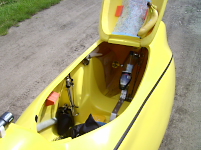 Technical specifications Highlights:
The 26" rear wheel makes a mid-drive unnecessary. The chainline efficiency has been maximized by using cogs on industrial ball bearings as chain idlers. The best chainline efficiency is achieved with standard derailer systems - as long as they are clean. The Milan's drive train is completely encapsulated against outside influences, which guarantees that this efficiency will be conserved for a very long time.
Length: 108"
Width: 30"
Height at head fairing: 35"
Turning circle: 36-43ft (depending on tire width and chassis adjustment)
Ground clearance: 4.3-5.5" (adjustable)
Weight: 71.6lbs (glass-fiber laminate), 65.0lbs (carbon-fiber laminate)
Weight limit: 265lbs (optional reinforcements possible)
Wheel base: 50" Track: 25.2"
Shifting: SRAM X7 und X9
Brakes: Sturmey Archer drum brakes front, optional disc brake rear
Rider heigth: 5'1"-6'7"
Seat angle: adjustable
Bottom bracket: adjustable
Cross-section area: 4.95ft2
Air drag coefficient Cw: 0.08 Cwa value: 0.0368 *
Energy efficiency: 150 Watt at 31mph, 200 Watt at 37.3mph, value could differ depending on payload, riders weight, tires and road surface
Color: yellow, red or white (others at request)
*the evaluation of the Cw value is based upon a averaging of wind tunnel measurements and iterative calculations on the basis of PowerTap hubs.